Zero was supposed to be helping Yuki keep the Day Class students away from the Night Class. But instead he was in the barn with Lily. He was sleeping after skipping class yet again. Though he was a Guardian of Cross Academy, he slacked off in classes, he either slept in them or he skipped them all together. He woke up when he heard Lilly get restless. "What is it, Lily?" he asked the horse, not even bothering to look where Lily was looking.
OOC: Sorry it sucks i'm not good at being Zero...

_________________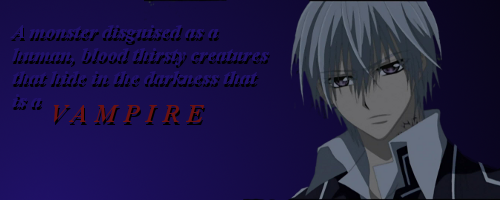 Spoiler:
Guardian





Posts

: 65


Heart Points

: 573


Reputation

: 3

Character sheet
Experience:


(1000/1000)


Party Members:


Yuki was standing about a foot near Zero, but he didn't even bother to look."Zero!" Yuki squeaked," C'mon, you're supposed to be in detention with me! Even if we're late for a reason, you know how the teacher is." she said agitatedly. Yuki stared at Zero directly. Her hair was moving slowly in the breeze. Jeez, Zero always doeas this. Why does he do this? Yuki wondered. Lily was shaking her head back and forth while neighing, happy. Ha ha, she sure does love Zero.. Yuki thought while forming a faint smile. Forgetting about detention, which she spent looking for Zero, she sat next to her childhood friend. "You seem very quiet these days. You don't tell me anything anymore. Is it just a problem with being a prefect? Or is it something else?" Yuki questioned, "Oh! Zero, It's time to monitor the intersection of the night class! Their time to go into the academy!" Yuki yelled while standing up. "Come on, coming?" she asked reaching out her right hand to his pale face.
Last edited by Yuki Cross on Fri Mar 25, 2011 9:07 am; edited 1 time in total
Zero looked at Yuki now, but still didn't answer her. He looked at her with sad eyes like he always did. Without saying a word or taking her hand he got up and walked in front of her."Come on, were going to be late." he said now stopping to look at her. He grabbed her hand and pulled her out of the barn, away from Lily and his blood tablets.
_________________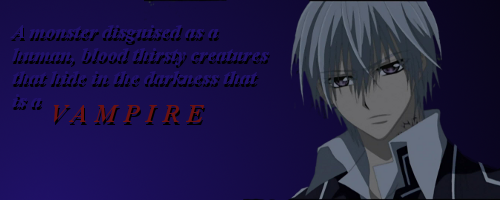 Spoiler:
Guardian





Posts

: 65


Heart Points

: 573


Reputation

: 3

Character sheet
Experience:


(1000/1000)


Party Members:



Similar topics
---
Permissions in this forum:
You
cannot
reply to topics in this forum